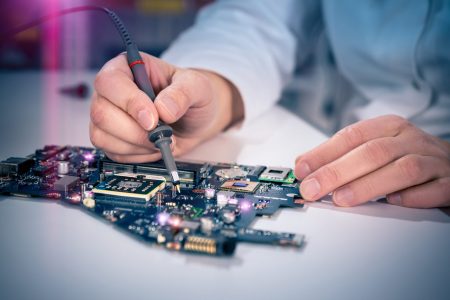 Design and simulation software
Cadence Allegro and OrCAD
Hyperlynx
Linux Operating System 5.4.85
Androi Operating System 10.0.0
Port drivers for all peripherals
Implementation of the application
Hardware Description:
Processor: 1.5GHz Dual / Quad Cortex ™ -A53
Gigabit Ethernet (10/100/1000 BASE-T)
USB port (HUB design – 3-piece port
The USB-1 port will be used only for debugging
The USB-2 port will be connected to the USB hub to create the port for the touch screen controller, the external USB 3.0 port.
RS232 port (TXD & RXD only)
HDMI video output (4K60)
I2C & SPI for Peripheral Control
External 10-bit address (SPI)
Modify internal
36 VDC input power supply
Keep circuit board operating for 500ms when power is off
Monitor all sources of the circuit board
The circuit board is designed to filter EMC and EMI noise
Vì sao chọn Trạm quan trắc nước mặt tự động của chúng tôi?
Thiết bị hoạt động theo quy định tại Thông tư số 24/2017/TT-BTNMT về Quy định Kỹ thuật Quan trắc môi trường.
Thiết bị được kiểm định tại cơ quan chức năng có thẩm quyền.
Thiết bị nhỏ gọn, linh hoạt trong việc chọn vị trí lắp đặt: Lắp trên trụ điện, đèn đường, toà nhà, hoặc các vị trí khác.
Sử dụng năng lượng mặt trời để cung cấp điện năng cho trạm hoạt động.
Các thông số đo khác nhau có thể được lựa chọn và thay đổi một cách linh hoạt tùy nhu cầu thực tế tại vị trí cần quan trắc.
Các cảm biến có chất lượng cao, do các nhà sản xuất uy tín trên thế giới cung cấp, vận hành đơn giản, giảm thiểu chi phí bảo trì.